Description
LeSS is a scaled up version of one-team Scrum. LeSS address the question of how teams can "scrum together" in building the product and how leaders can design such an organization. It is based on Scrum principles such as empiricism, customer focus, systems thinking, queueing theory, and self-managed cross-functional teams. And to maintain the simplicity and elegance of Scrum, LeSS is a "barely sufficient" and "intentionally incomplete". Principles scale, practices don't. And at the same time, principles are abstract and hard to implement. So LeSS lays out minimilistic set of rules which the teams/organizations have to follow (e.g. single product backlog for multiple teams).


The Certified LeSS Basics course provides an initial introduction to the LeSS framework. In a one-day training course, you will get an overview of the framework itself and get to know some of the basic concepts. The course will help you decide if LeSS could be the right one for your needs, but for the introduction of LeSS, we also recommend participating in a LeSS Practitioner course (3 days) .
Target Audience
The Certified LeSS Basics course is suitable for anyone who deals with the concept of LeSS. Basic knowledge of Scrum is required (fx. from a PSF/PSM/PSPO/CSM course and practical experience with Scrum). The Certified Less Basics course is often offered as an extension day of a Scrum course and thus serves to deepen Scrum-focused training.
Course Agenda
Why LeSS?
LeSS Complete Picture
Systems Thinking, System Goal and System Optimizations
Feature Teams
LeSS Roles, Events
LeSS Principles & Guides, Rules
LeSS Simulation
Learning Goals
A year (or more) after this course is over, we want and hope that participants will still be able to:
Articulate why LeSS
Explain how LeSS is a Scrum-based approach on scaling
Summarize what impact this has on the organisational design (structures, policies, etc.)
Explain the dynamics of component teams vs. feature teams
Explain all LeSS roles and their purposes
Explain why there is one and only real PO and not so-called team POs
Explain the LeSS Complete diagram, organizing LeSS information in terms of the principles, rules, guides, and experiments
Explain how LeSS scales over ~8 teams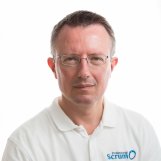 Underviser: Mads Troels Hansen
Professional Agile Coach & Professional Scrum Trainer
Mads er certificeret Professional Scrum Træner hos Scrum.org og er en af de mest erfarne i Danmark inden for implementering af og praktisk arbejde med Scrum, Kanban og Agile teknikker. Han har omkring 20 års erfaring med at arbejde agilt fra mange danske og internationale virksomheder og har som Udviklingschef/CTO indført Scrum i mange forskellige virksomheder med afdelinger i DK, Østeuropa og Asien. Han har mere end 15 års praktisk erfaring med at lede teams og afdelinger til at blive mere agile og skabe flere resultater med mere motiverede medarbejdere
Mads er bla. certified Professional Scrum Trainer ved Scrum.org, Management 3.0 Facilitator, Certified Coach og "Training from the Back of the Room" Certified Trainer. Teknikker og principper fra "Training from the Back of the Room" bruges i alle hans kurser og workshops til at maksimere læring for deltagerne.
Se mere om Mads på LinkedIn, Scrum.org eller MadsTroelsHansen.com
Læs mere om Professional Scrum på ProfessionalScrum.dk
Certificeringer
Certified NLP Coach
Certified Business Facilitator
Expand Certified Coach
Certified SAFe Agilist