Course Overview
The Professional Agile Leadership™ Essentials (PAL-E) is a 2 day training that provides a foundation for the role that leaders play in creating the conditions for a successful Agile transformation. The training is a unique mix of theory & practice, optimized for the best learning experience.
Leaders and managers are critical enablers in helping their organizations be successful, yet the role of leaders and managers in an Agile organization can be quite different from what they are used to. To succeed in a changing world, organizations need to become more Agile, more responsive to customer needs and market changes. This training will equip leaders and managers to help their organizations change.
Event
Venue
Date
Professional Agile Leadership (PAL)

WSG, Hellerup

View Details
Target Audience
You are a leader who is involved in the adoption of Agility in your organization:
You are a manager/leader, responsible for leading one/more Scrum teams, including Scrum Masters, Product Owners and members of a Development Team
You are a (HR/PMO) manager/leader, responsible for developing people in the Scrum teams
You are a Senior Executive, acting as a sponsor for the Agile transformation and want to know how to develop the leadership for the Agile transformation
You will Learn:
An overview of what "Agile" is, why organizations need it to survive and thrive in a changing world, how it works, and how to quantify its benefits from a business perspective
The means to identify the potential opportunities and impacts of Agile in terms of business value
An understanding of how Agile addresses the root causes of business uncertainty and IT project failure and/or dissatisfied customers
The ability to compare and contrast Agile practices with alternative business practices and discuss how Agile fosters a culture of innovation and enhances financial performance
An understanding of how to help form and support Agile teams using an empirical approach to product delivery
An understanding of typical challenges that Agile teams face and how to support them by removing impediments
You will know:
Why we need Agile Leadership
How to do value driven product development for your business
How your organization can benefit from empiricism
The fundamental elements & principles to make Scrum successful
The difference between a traditional and an Agile Leader
Several applicable, practical implementation-tips for becoming an Agile Leader
How to develop an education roadmap for the different roles in a Scrum team
How to measure the success of a Scrum team
Success/failure criteria for an Agile transformation
You will gain hands-on experience as you:
Participate in interactive discussions using merely flip charts and a slide deck as support & background information
Execute team cases & exercises
Watch videos
Prerequisites:
Attendees make the most of the class if they:
Study the Scrum Guide
Have been or are closely involved in building or enhancing a software product or application using Scrum
Read any book on Scrum by Ken Schwaber
Course Objectives
Development of a common language
Understanding of core problems in IT Product and Software Development
Professional introduction and establishment of Agile techniques
Role management plays in the Agile change of an organization
Course Topics
Why Agile Matters
Agile Challenges
Leaders Sustain Agility
Developing People
Measuring Agility
Professional Agile Leadership Certification
All participants completing the Professional Agile Leadership – Essentials course will receive a password to attempt the Professional Agile Leadership I (PAL I) certification assessment. If you attempt the PAL I assessment within 14 days and do not score at least 85%, you will be granted a 2nd attempt at no additional cost.
Learn more about PAL at Scrum.org/pal-e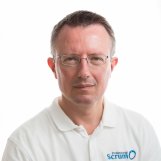 Underviser: Mads Troels Hansen
Professional Agile Coach & Professional Scrum Trainer
Mads er certificeret Professional Scrum Træner hos Scrum.org og er en af de mest erfarne i Danmark inden for implementering af og praktisk arbejde med Scrum, Kanban og Agile teknikker. Han har omkring 20 års erfaring med at arbejde agilt fra mange danske og internationale virksomheder og har som Udviklingschef/CTO indført Scrum i mange forskellige virksomheder med afdelinger i DK, Østeuropa og Asien. Han har mere end 15 års praktisk erfaring med at lede teams og afdelinger til at blive mere agile og skabe flere resultater med mere motiverede medarbejdere
Mads er bla. certified Professional Scrum Trainer ved Scrum.org, Management 3.0 Facilitator, Certified Coach og "Training from the Back of the Room" Certified Trainer. Teknikker og principper fra "Training from the Back of the Room" bruges i alle hans kurser og workshops til at maksimere læring for deltagerne.
Se mere om Mads på LinkedIn, Scrum.org eller MadsTroelsHansen.com
Læs mere om Professional Scrum på ProfessionalScrum.dk
Certificeringer

Certified NLP Coach
Certified Business Facilitator
Expand Certified Coach
Certified SAFe Agilist